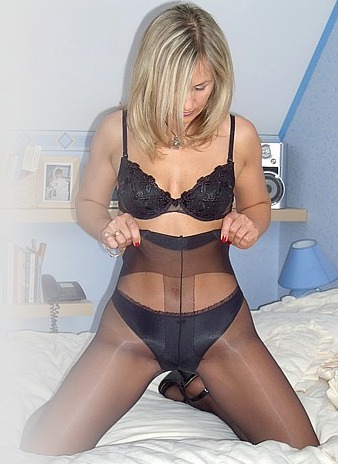 You have just found Ala in Pantyhose !

Here you will fulfill all of your pantyhose dreams and more! Come inside and meet Eastern Europe's premiere amateur model of erotic clothing, with the emphasis here on such provocative adornments as mini skirts, high heels, and sexy lingerie; with a major emphasis on a tantalizing variety of pantyhose! Yes, pantyhose.the object of most men's attraction. I find that pantyhose, like nylon stockings are among the sexiest things a woman can wear! They are classy and they are beautiful, enhancing what I consider to be one of my most tantalizing features - my amazing legs! I love the way they feel on my legs and they way they turn men on. I love to feel the furtive looks of men trying to sneak a peek!

I enjoy dressing in a sexy manner designed to tease and please. I feel most at home in front of the camera, posing and teasing for my fans. I think a woman who knows how to wear sexy clothes in an erotic and sensual way is much more sexy than a naked one. I feel that leaving something to the imagination is the very best way to drive a man to absolute distraction! But I want you to find out for yourself. Come in and let me know. If I am right.
----------------------------------------------------------------------------------------------------------
Do you have problems in watching my Video Clips? Maybe you need to download the: 'DivX Play bundle' Free software from: http://www.divx.com This DivX Software will allow you to view my video Clips using Windows Media Player. You can try also free media player from: http://www.videolan.org Or you can use "Real Player".